Sunday, August 23, 2009
Sorry Drizzy I had to do it..
Enjoy.
Freddie Mac - Still Fly
Scribbled down by

Freddie Mac
somewhere around 6:29 PM
0 comments

Links to this post
Friday, August 21, 2009
Ok.. leading up the release of my "party" mixtape, I will try to do the somewhat impossible. As an artist, things happen, things take place, that some of you would like to know about. Usually, if you're following me on twitter, you know almost my every move, but with only 140 characters, its kind of hard to know EXACTLY whats goinz onzz...
So I will start Monday with a DAILY BLOG (yeah, lets see how long that last) on current events surrounding things I am doing to get prepared to release this mixtape. Whether its fan interaction, give aways, etc..
Being that I am already sooo busy.. this should be fun. So if you all can log on and read an updated blog everyday, then I should be able keep it updated..
There will also be daily questions.. like this:
As a fan, supporter, friend, WHAT ARE SOME THINGS YOU WOULD LIKE ME TO DO? As far as interacting with you all, maybe BLOGTV, maybe another MACWEEKLYRECAP, maybe a SHOW IN YOUR CITY :) (ok, hold up on the last one)
Thank you all again for everything and I need you all to keep me on point!
Mac
Scribbled down by

Freddie Mac
somewhere around 12:02 PM
2 comments

Links to this post
Thursday, August 13, 2009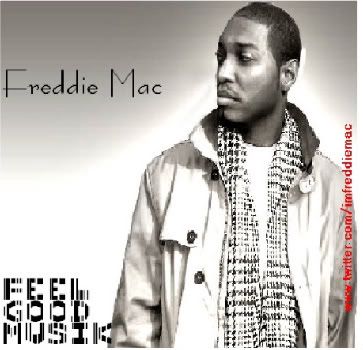 After months of HARD WORK (but I make it seem easy) the "Feel Good Music" Mixtape is completed. Yesterday I finished the last two songs, which leaves this mixtape at a total of 9 songs, also including a few skits and interviews! The tracklisting will be coming soon along with interviews and hopefully videos.
On this mixtape I decided to step away from being SOOOO SERIOUS and just decided to have fun and that I most certainly did. I only worked with 2 producers on this project because they felt the music and where I was trying to take this mixtape.
Many would like to claim this as "dance" music or "club" music but being from Mississippi and growing up around this type of music, it is what comes easy to me. This should be a very nice fall semester, for the schools, students, party people who ROCK with this music and know how to party!
Im sure there will be a lot of backlast on the titles of the songs and the direction I was going with this mixtape, but you can't please everyone.
A listening party will be set up soon once a date is set and everything is in place. It will also be broadcasted live so we can interact and you can voice your opinion.
Once again, I would like to thank you all for hanging in there after numerous announcement of this mixtape being finished, lol. It is completed NOW.
Feeling accomplished,
Freddie Mac
Scribbled down by

Freddie Mac
somewhere around 1:23 PM
3 comments

Links to this post